"This new ebook not only emphasizes the lessons from the blog, but focuses on being realistic and finding what works for you. It also stresses the power of making small changes and includes tips for blocking out time in your schedule for yourself. I love that each chapter ends with action steps to put the tips into action. One of my favorite quotes is by Ben Franklin; "If you fail to plan, you're planning to fail." Tammy uses this ebook to set the reader up for success by teaching them how to plan ahead so they can stick to their goals- even when life gets chaotic." - Rachel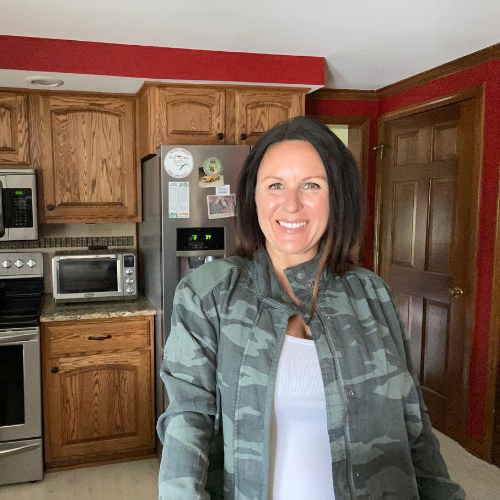 Hi, I'm Tammy!
I'm the author and owner of the blog Organize Yourself Skinny. I also put together the Organize Yourself Skinny eBook and 30-Day Workbook bundle you're getting ready to look at.
But…
Before I tell you all about my story and share the deets on the Organize Yourself Skinny eBook and 30-day Workbook Bundle I want to talk about you.
It's likely you ended up here because you're in one (or more) of these camps.
You're overwhelmed.
There's a lot going on. You're busy with kids, work, managing a house, spending time with your loved ones, and everything else you try to fit in the day. You want to get healthier, and losing weight would be awesome, but you don't even know where or how to start. 


You're unmotivated.
The stress of life has you reaching for the couch and carbs. Of course, you know you should get on the treadmill, and whip up a salad, but you have zero motivation to do anything but binge-watch Netflix. 


You feel like you've tried every diet on the planet.
Nothing seems to ever work out long term and you feel like maybe you should just accept it.


You feel completely discouraged.
You weigh more than ever and it's impossible to envision any weight loss. 


You want to lose weight.
You had a couple "a-ha" moments and now you're ready to commit to a new healthy lifestyle, get your life back on track, and finally drop some pounds. 


Can you resonate with any of these? If so, then you landed in the right place. I'm here to help.


Here's the thing, I started exactly where you're at right now. I was there. I was in all those "camps" So, I get it.
And...without sounding super corny, if I can do this so can you.
I mean it.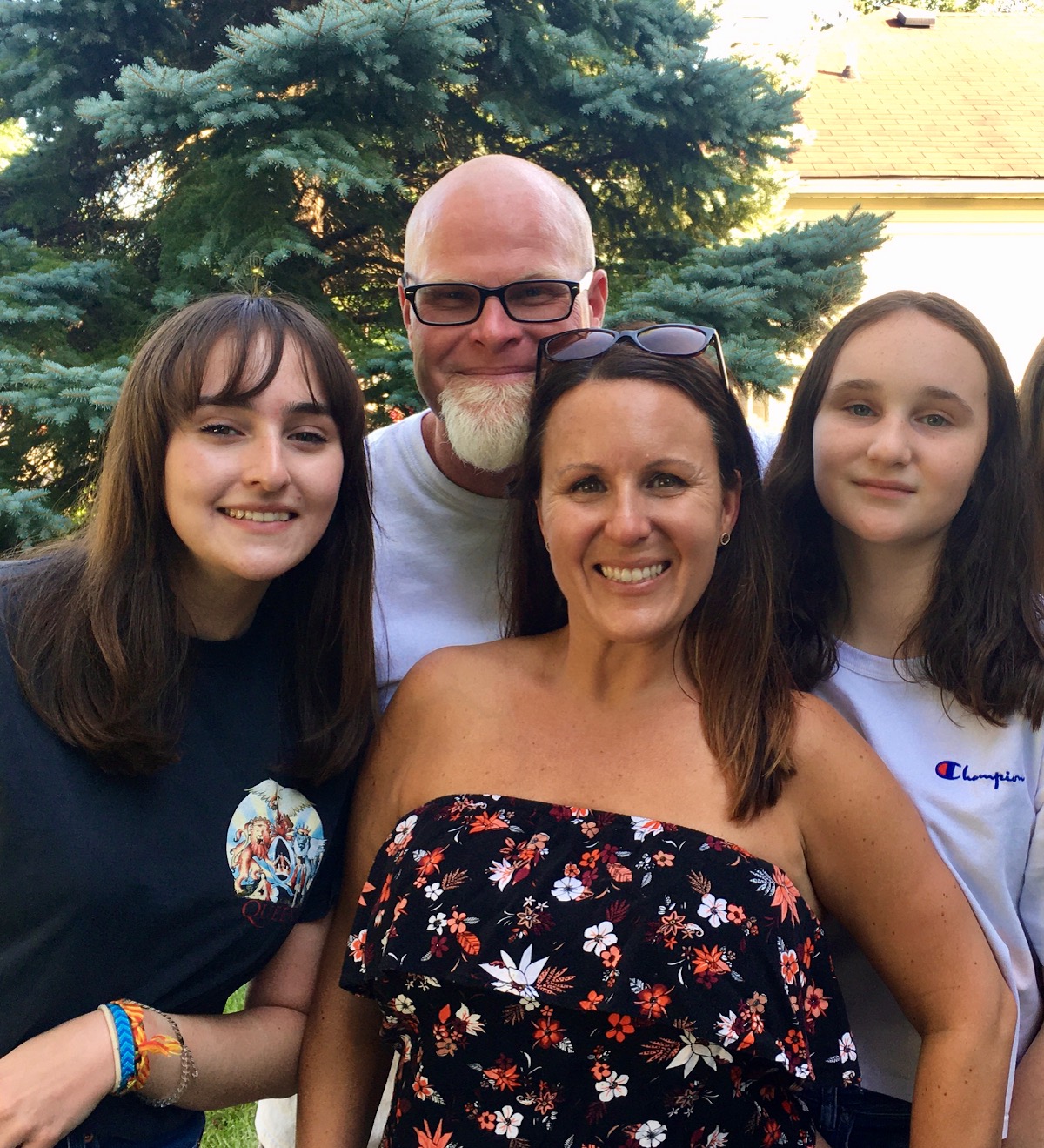 More about me...
You would think because I write a blog about losing weight that I'm a health nut or an exercise freak. 
Well, I'm not. Not even close.
I'm a busy working mid-forties hormonal mom (to two teenage girls) who wants to feel confident and healthy.
I want to go shopping for clothes without crying and I don't want to hide behind my kids in pictures. I want to be the best version of me!
Is that too much to ask?
I didn't think so!
That's why I finally decided to take control back of my life.
Basically, I was sick and tired of being sick and tired.
So, in October 2010 I decided to change the direction of my life.
I didn't follow a fad diet. I didn't deprive myself. I didn't kill myself at the gym. 
What I did do was put in place practical weight loss strategies that gave me the structure I needed to lose weight and keep it off.
I found a way to change my habits and lifestyle all while working full-time and raising two little girls. 
By the way, the picture seen to the right is the picture that change it all for me. I'll never forget when I first saw it. I was so embarrassed and disappointed. I couldn't believe I let myself get to this point. I didn't even recognize myself.
Let's not even talk about my horrible fashion sense. But really, it's hard to ignore.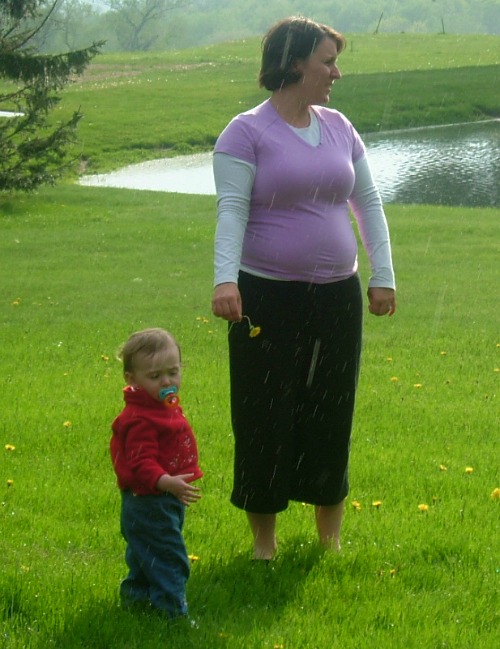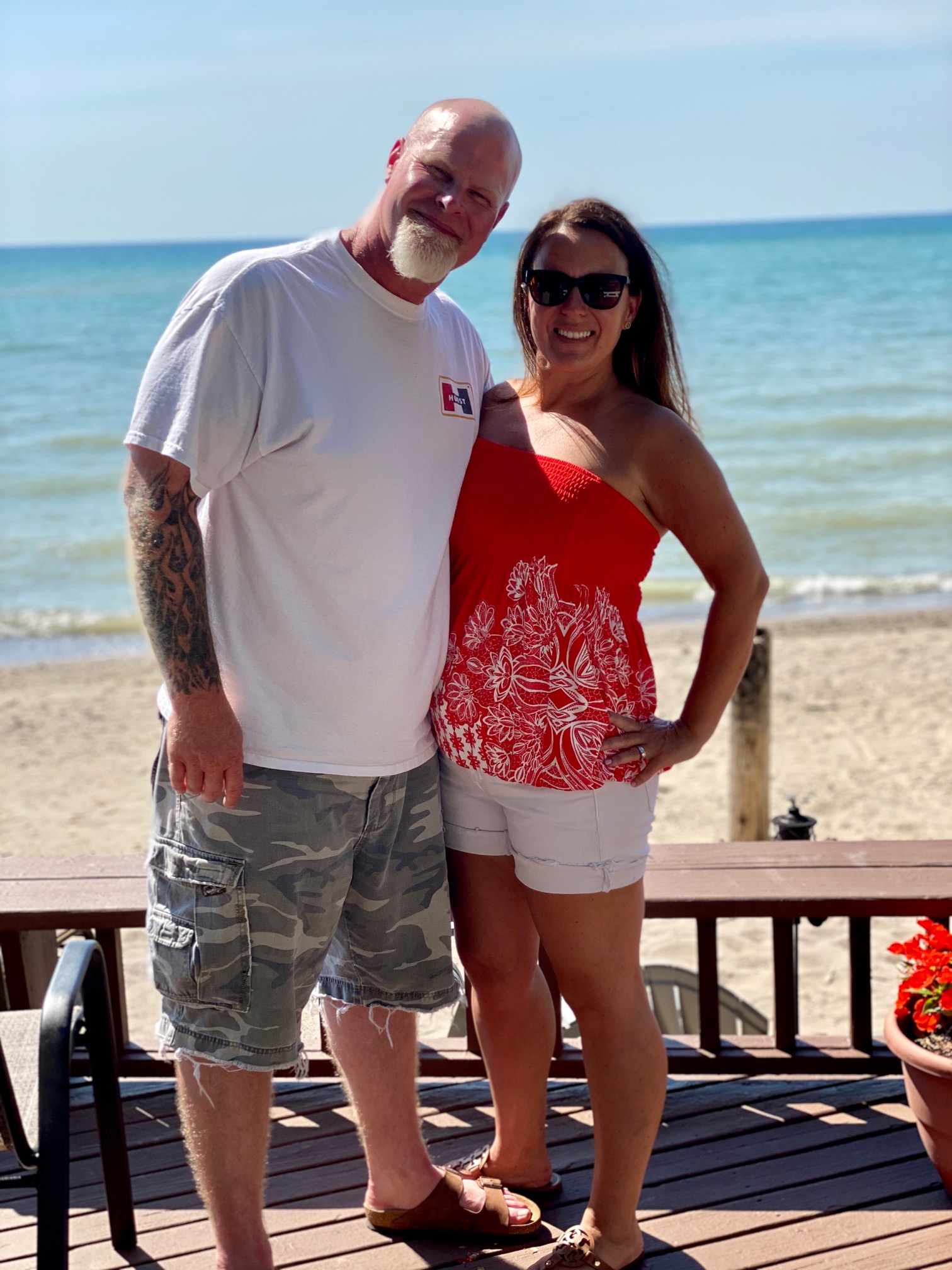 I organized myself skinny!
After the weight came off my life changed! I looked better than I did in my 20s and it felt amazing. 
I never thought losing weight was in the stars for me but all I needed to do was take a step back, get out of my own way, and put in place strategies that would stick.
This picture to the left is me right now - 10 years after taking that first step on my weight loss journey.
Of course I've had my ups and downs and some days are easier than others. But, overall, I've been able to sustain healthy habits and weight loss for a decade with no signs of stopping!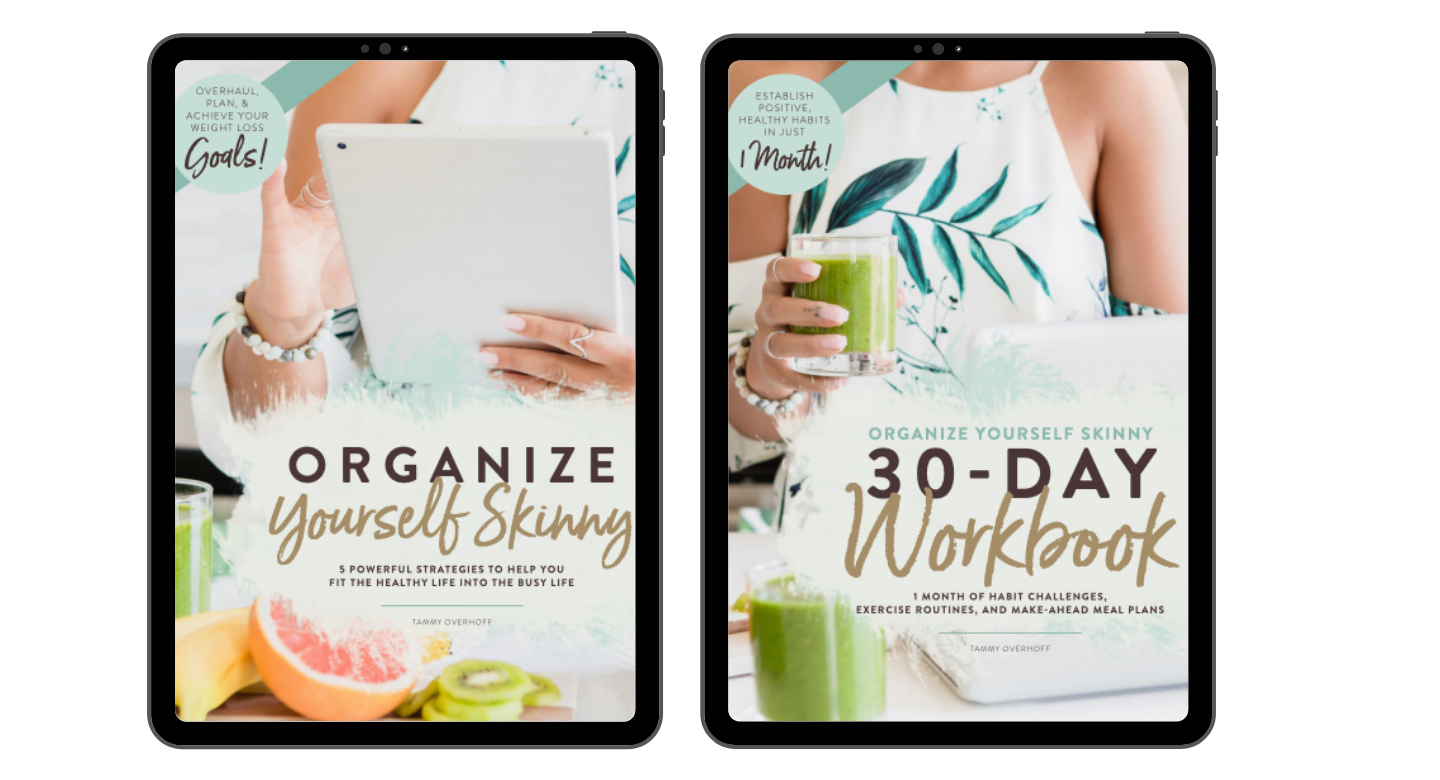 The Organize Yourself Skinny eBook & 30- Day Workbook Bundle
To help other busy people just like me, I documented the strategies that I've come to rely on week after week and shared them in the Organize Yourself Skinny eBook.
You get every strategy, tip, trick, and secret I used to get my butt off the couch and make real changes.
Even better, I put together a 30-day workbook to help you visualize and put in place all of these strategies.
Think about it this way...
The OYS eBook is the brain and the 30-day Workbook is the brawn!
Everything you need to get started on creating a healthier lifestyle, and living your best life, can be found in the Organize Yourself Skinny eBook and 30-Day Workbook Bundle
I know the information I provide in this bundle can change your life because it changed mine!
What's included in the Organize Yourself Skinny eBook & 30-Day Workbook Bundle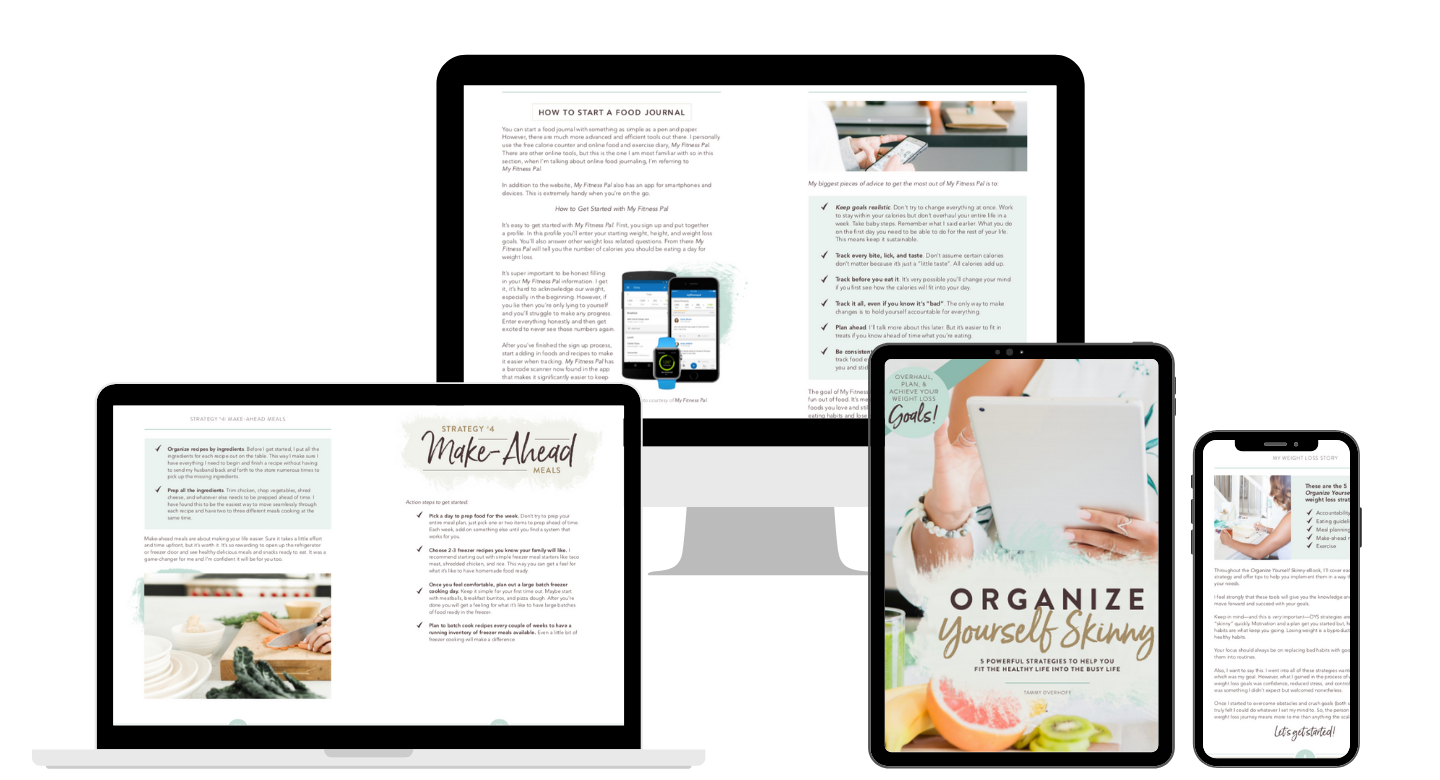 No Unrealistic Weight Loss Advice
The Organize Yourself Skinny Bundle is not a bunch of unrealistic diet advice. Heck no! These are real strategies that even the busiest person on the planet can implement. I don't remove food groups, you don't live off shakes, and you will not be exercising 3 hours a day. I teach you 5 different weight loss strategies that will help you fit the healthy life into your busy life on your own terms. That's not to say I don't provide structure. I do. But I teach you how to fit that structure into your lifestyle in a way that works for you. Doesn't that sound beautiful?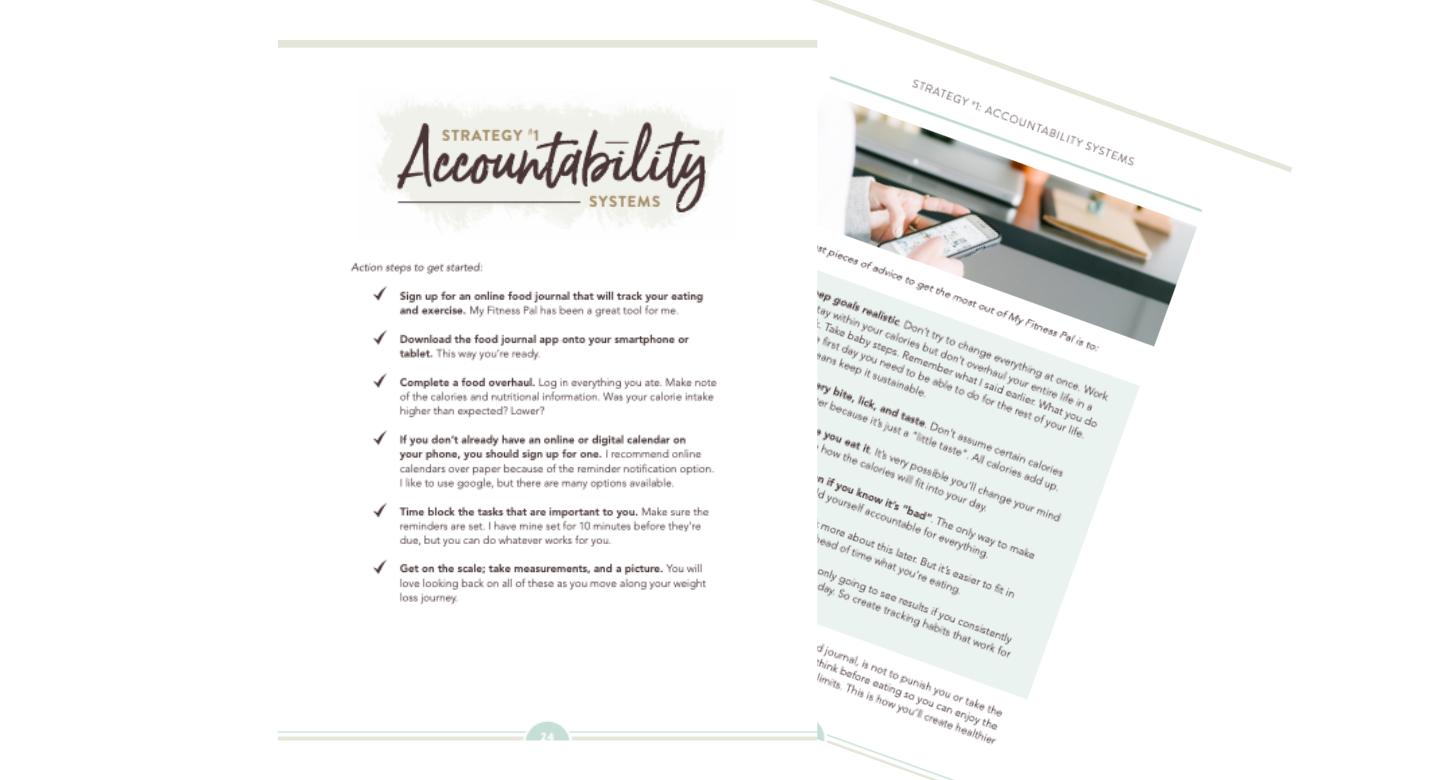 Getting Started Action Steps
Each weight loss strategy comes with action steps so you can get started right away! You will finally know exactly what to do to get back on track and achieve your weight loss goals!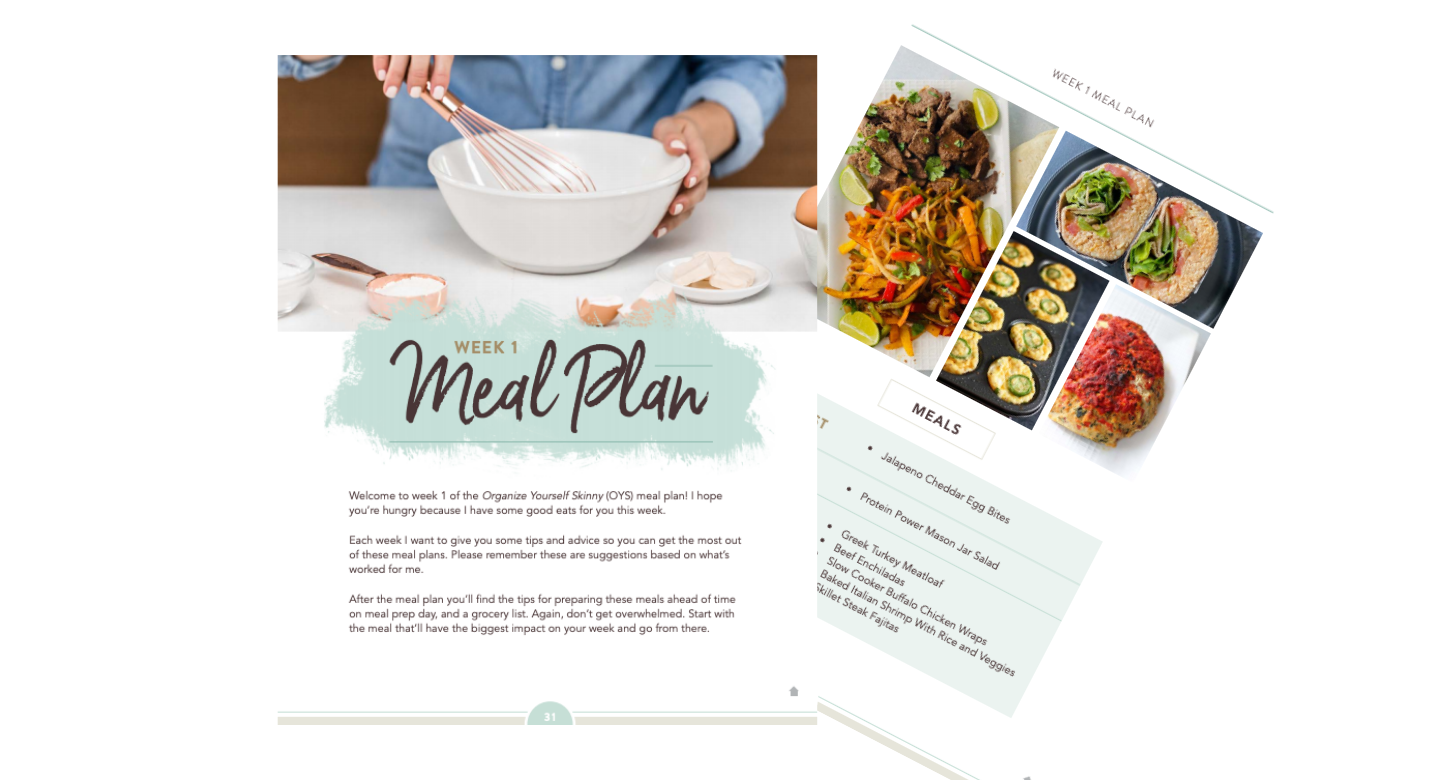 The 30-day workbook includes 4 weeks of make-ahead meal plans. You'll find delicious family-friendly recipes with all of the nutritional information to make it easier for you to stay on track. I also put together meal prep instructions so you can make everything on Sunday for the week! Eating healthier is so much easier when healthy food is ready!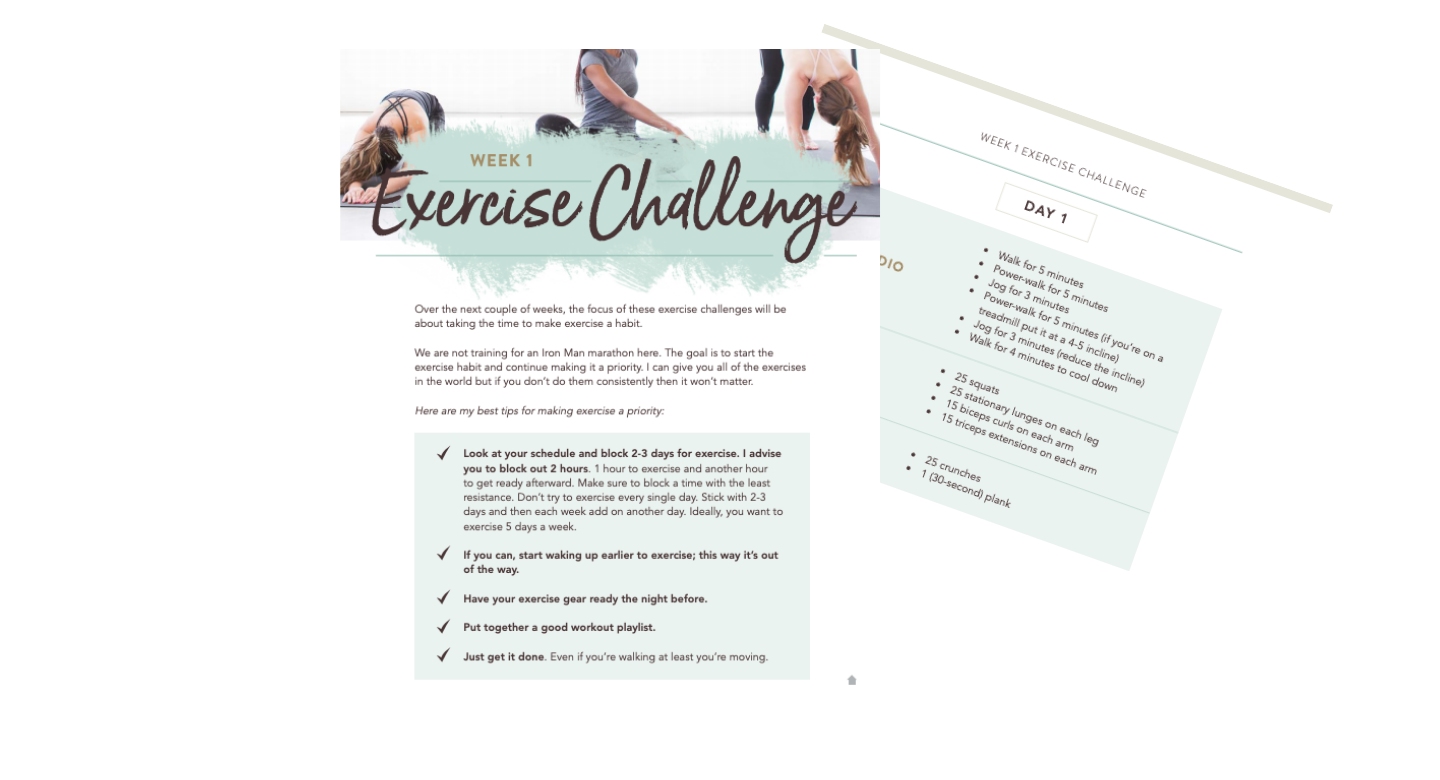 You'll also find 4 weeks of exercise challenges. These challenges aren't designed to help you train for an Iron Man marathon. Nope, the exercise challenges are designed to help real people jump-start the exercise habit. The goal is to get you moving and keep exercise a priority!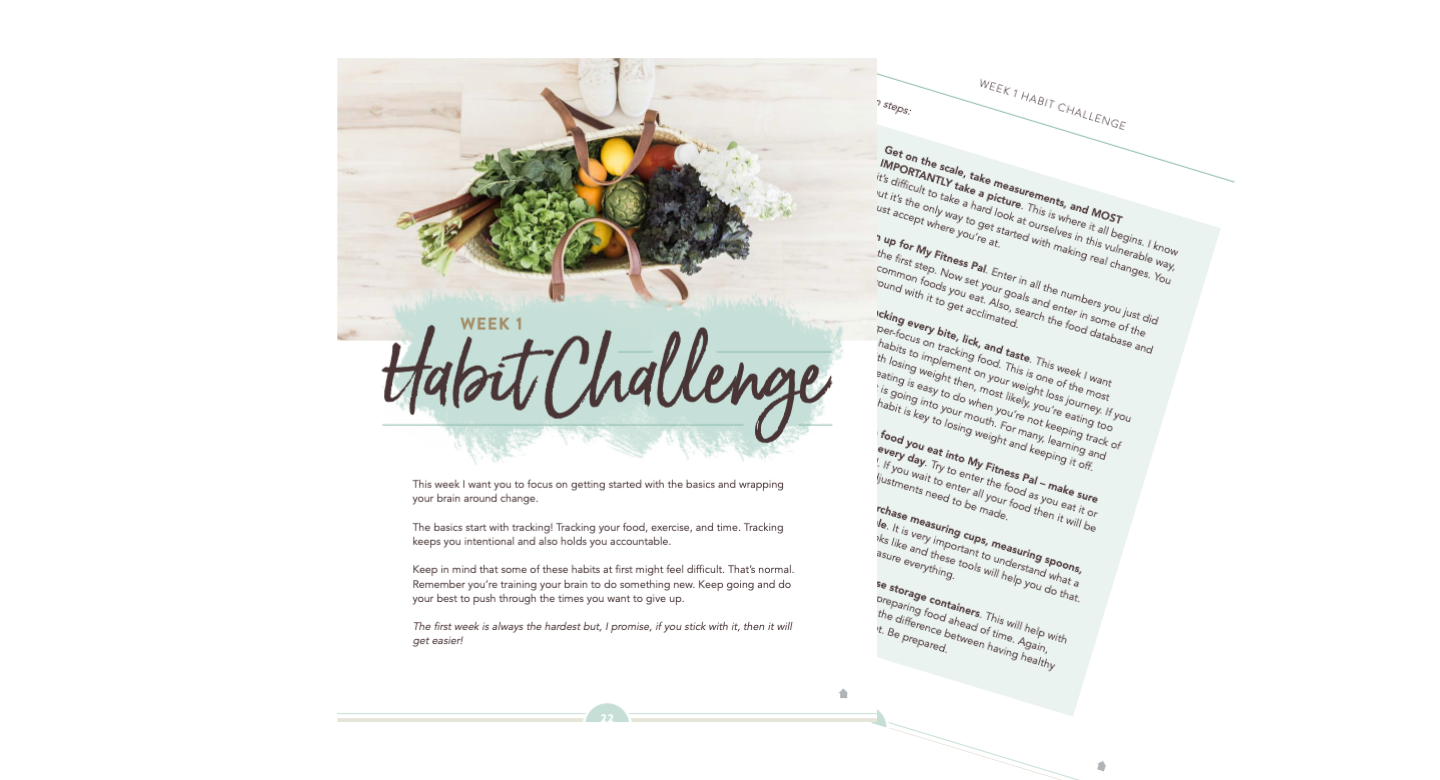 The secret to weight loss and, basically everything in life, is in your daily habits! In the 30-day workbook I take you through 4 weeks of simple habits that can create big changes in your life!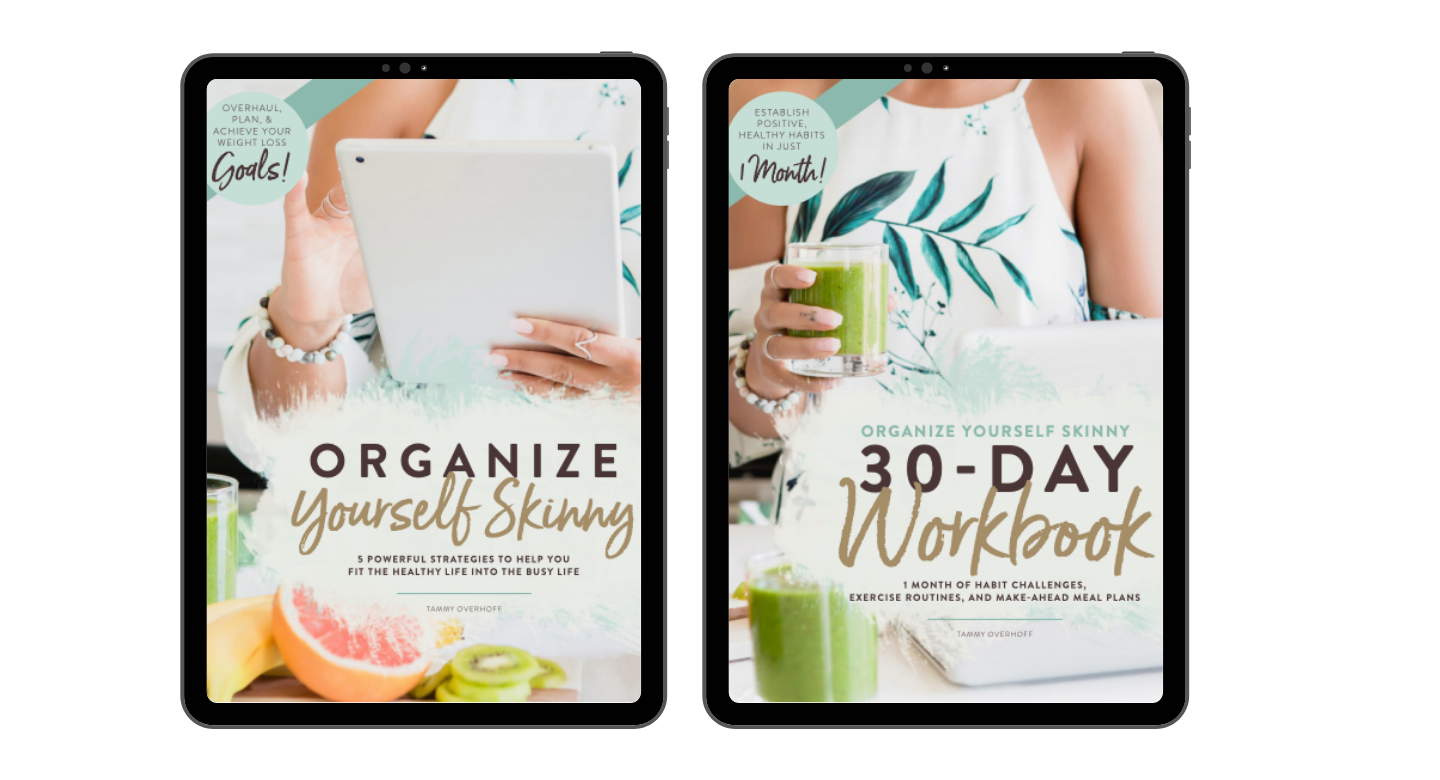 The days of feeling overwhelmed, lost, and borderline crazy are over. Depending on the fast-food drive-thru, because you forgot breakfast or lunch, are long gone. Not having the time or energy to exercise will become a thing of the past. You can close that chapter because I am giving you the tools to completely switch gears. You will finally be in control.
Oh Wait! When you order today, I'll throw in this bonus!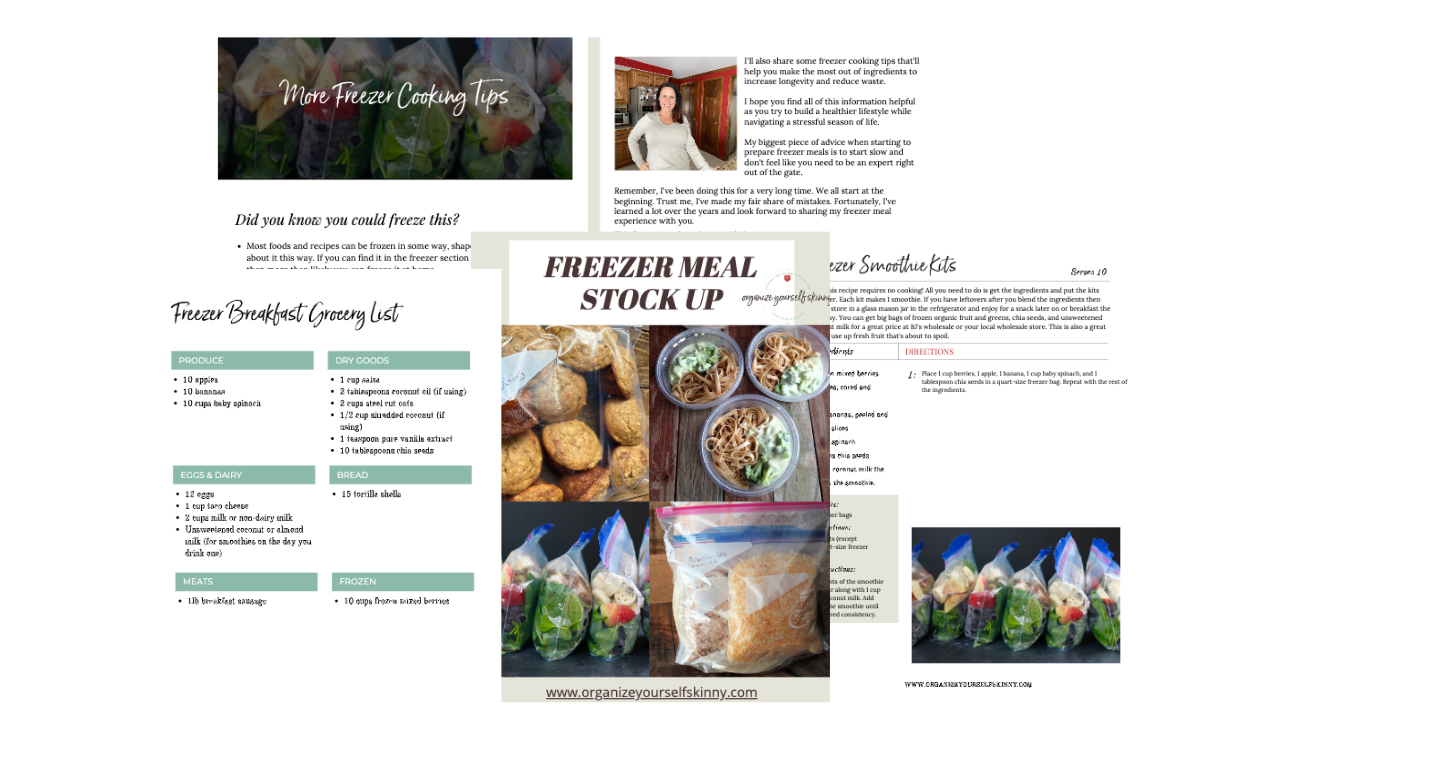 Bonus Freezer Cooking Stock Up Mini eBook
Believe it or not, but my love for meal prep started with freezer cooking.
When I started on my weight loss journey I was in the busiest time of my life. My kids were little, I worked full-time outside the home, and barely had time to shower. Cooking fresh homemade meals every night just wasn't in the cards.
That's when I discovered freezer cooking. I took time every 4-6 weeks and stocked my freezer with healthy meals and snacks. So, all I needed to do was heat and eat. This was a complete game-changer for me. 
In this bonus I share my favorite freezer recipe stock up plan! Breakfast, lunch, and dinner! Let's get your freezer stocked! 
Trust me, you'll thank me every time you open your freezer. Haha..but seriously.
Real Reviews From The
Organize Yourself Skinny Community
"If you're hesitating with purchasing this eBook and Workbook, I'm telling you to just do yourself a favor and get it! I've purchased many eBooks and programs to help me lose weight and nothing ever worked. But the way Tammy lays out and explains the information really spoke to me. Finally, everything clicked! She is a real person who totally gets the struggle and figured out real solutions that work. For the first time, the scale is starting to go down and I feel like I can do this! I can cry just writing that. Thank you, Tammy for your beautiful eBook and Workbook." - Dana
"I started with the OYS ecourse a few years ago. It has become a staple in my life. Every time I review the materials, I learn something new. The tips and tricks are laid out in a way that makes them very user friendly! The NEW OYS ebook is exactly what I needed to give me guidelines that follow up on the original eCourse. It's been super helpful in my busy life as a school administrator to have these tools to keep my eating and exercise in check. I so appreciate Tammy's easy-going and relatable advice!" Brenda
"One of the best tips Tammy gives is to start meal prep with a clean kitchen. I also like the recipes & ideas on how to freeze foods for freezer meals. OYS has taught me to make weekly salads and prep all of my veggies at one time. OYS gives you baby steps to follow to make the small changes that become habits. One day you'll see yourself planning your week (meals, exercise, activities, etc) and it won't feel like work, but rather it'll bring you peace of mind knowing you're making the week ahead easier to handle. Tammy is realistic in her plan and makes meals that are nutritious, balanced & easy to make so the whole family benefits from your healthy habits. Thank you Tammy for the support and tips when life starts to unravel...as she often says, just go back to the basics, which in turn will help you get organized. This ebook is well written, easy to follow, and easy to implement in the busiest of schedules. I would give it 5 stars" - Sandra
I loved everything about your e book!! The pictures were beautiful and the content was very organized. I enjoyed hearing about your personal story which is very motivating!! I've lost weight / gained several times throughout my adult life. I was even a WW leader about 10 years ago and was at my goal for 2 years...life got in the way and now I'm 50 lbs heavier. Trying to not be hard on myself and I know little changes make a big difference thank- you for this e-book!! I am definitely going to start using some of your ideas! Preparation is the key for me. I feel that you have given the reader multiple ways to do this. - Kristin
But you still might be hesitant.
Listen, I know you might have objections to purchasing this bundle. It's likely you've spent more money than you want to admit on weight loss stuff. And why should you purchase info that can be found for free on the internet?
Trust me, I get it.
You certainly can search the internet and spend time putting together a plan all on your own.
That's how I started. Lot's of googling along with trial and error.
However, I put together the Organize Yourself Skinny eBook bundle so you don't have to. So, for the price of a few Starbucks you can have every strategy, tip, and trick laid out in an organized format all ready for you to jump in and get started.
Or maybe you're hesitant about investing in yourself. I get that too. It's so easy to put our needs last.
But can I tell you something?


Once I put myself first and prioritized becoming a healthier person I actually became a better wife, mother, employee, and business owner. Everyone benefited when I transformed into a healthier happier person.


I know the Organize Yourself Skinny strategies work. They changed my life and I get tons of testimonials from happy OYS students telling me the same thing.
If you think the OYS eBook and 30Day Workbook Bundle is for you then I love to share all I know about creating a healthier lifestyle and losing weight. If you still need more time, no worries I'll be here when you're ready.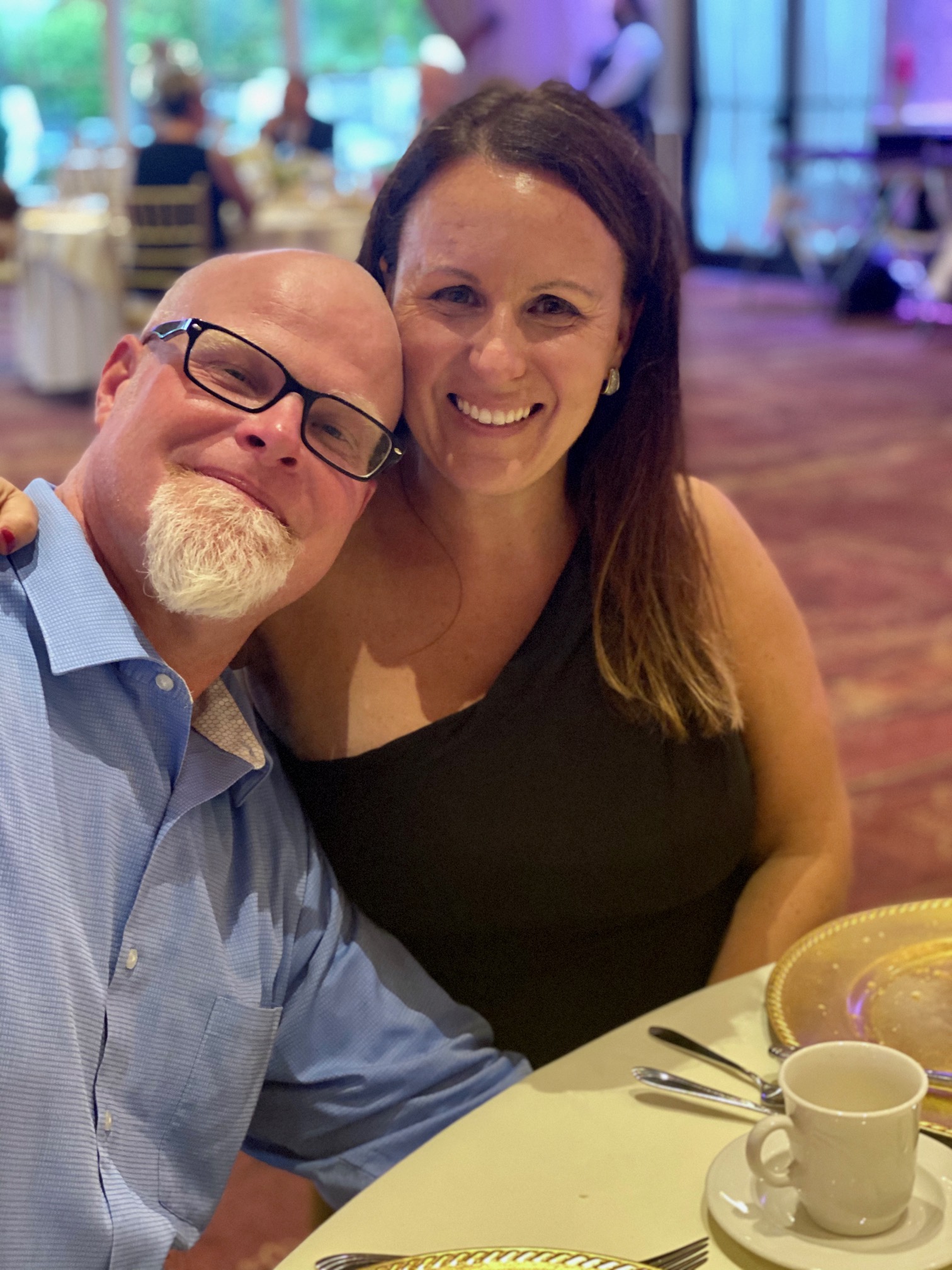 The last thing I want to say is this...
Using all the strategies I teach, my life changed far beyond losing weight. 
Of course, I went into my journey with the "simple" goal of wearing skinny jeans and maybe a bathing suit. But, I quickly learned that everything I was doing to "lose weight" was changing my life in different ways.
My weeks became less stressful and chaotic. 

I had more time to do other things. 

I was no longer exhausted all the time.

I discovered a confidence and happiness in me that I didn't even know was possible.
I completely transformed into a better happier version of myself.
This is me today! I feel more confident and happier than ever. I look forward to running into people I haven't seen in a long time and get excited to try new things. I'm no longer hiding behind my kids in pictures.
I would love to help you feel the same way.
The choice is up to you. If you're ready to make changes then I'd love if you chose the Organize Yourself Skinny Bundle to guide your journey to a happier, healthier, and more confident life.
xoxo,
Tammy Overhoff
Founder, Organize Yourself Skinny